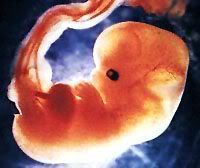 A new scientific study has found a way to extract stem cells from human embryos without destroying the embryo itself. This is obviously a notable breakthrough that will hopefully turn the tide of legislature concerning stem cell research in this country.
Link to article
However, the response from the White House indicates that they are ignoring its findings, stating:
Response in the New York Times
"Any use of human embryos for research purposes raises serious ethical questions.
This technique does not resolve those concerns."
How can they say this when the primary argument against this research conveyed by opponents of stem cell research is no longer an issue?!? This reaction reminds me of a child who covers their ears, and repeats the phrase "I'm not listening!" over and over so they can avoid providing a cognitive rebuttal.