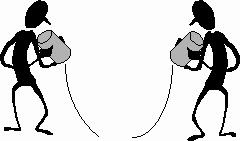 If you have a 310 area code, be prepared to dial it from now on. Effective today, July 26th, 2006, this new change will affect all those living in Westside, South Bay, Malibu, Beverly Hills, Compton and Inglewood. Here's an excerpt from the LA Times:
Residents of the 310, get your fingers ready. Starting today, everyone who lives within the boundaries of the 310 area code will have to dial 11 digits — 1 plus 310, then the seven-digit number — when making a local call.The new dialing procedure is another step toward implementation of the state's first area code overlay. Service providers are scheduled to begin distributing numbers with the new 424 code Aug. 26. Existing customers will keep their 310 numbers.
(taken from the LA Times article
here
)
This is just ridiculous! I feel sorry the people who didn't store their cell phone or phone directory numbers this way. Hopefully no one in that area has had to deal with blackouts too.