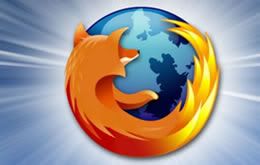 Despite my previous entry's disdain for desktop apps, I must hold up the latest beta release of Firefox (aptly labeled 2.0) for the update that it is... further improvement on what was already a good thing.
The 2.0 version of Firefox (you can download it
here
, btw. or
here
if you want a portable version, that won't interfere with your profiles folder) isn't a major overhaul, so much as a minor facelift. All the tab switching goodness is still here.

First off, a session restore feature was added. Now, after a crash or when some other abrupt action halts Firefox, you will be prompted at the next startup whether you would like to restore all the tabs you were browsing. Also, any recently closed tab can now be reopened using the History menu. Another tweak you may notice is that the integrated search bar is now much wider and boasts and Manage Search Engines feature in the drop down menu. In place of the separate "Extensions" and "Themes" dialogs, "Add-ons" now resides, each one with clearly visible options, disable, and uninstall buttons, and even provides a restart firefox button when updates are applied. The browser even has a new rss feed reader, but will still allow any external feed reader of your choosing.

On the security side of things, there are a number of important fixes. The biggest addition would have to be an anti-phishing protection.

The only downside I see to upgrading to the 2.0 beta now is that some of the Extensions will not work and most of the Themes will be incompatible. There is a way around most of this, by using the "Nightly Tester Tools" extension (download). This allows you to force all your add-ons to be compatible with all versions of Firefox.

Though most of these feature additions are popular extension ideas adopted by the Firefox team, it's nice to see the application evolving in little bits here and there. Even if you ignore the security advantages of using Firefox over IE, I don't think I could go back to using IE simply because of all the extra features extensions can bring. It's those interface updates that really make it feel old. Much like playing an ancient RTS will feel frustrating next to Warcraft III's many helpful automations and AI tweaks.

True, IE7 is coming. But we Firefox users have had an IE7-level browser for ages. IE7 is almost as funny a joke as Vista... almost.